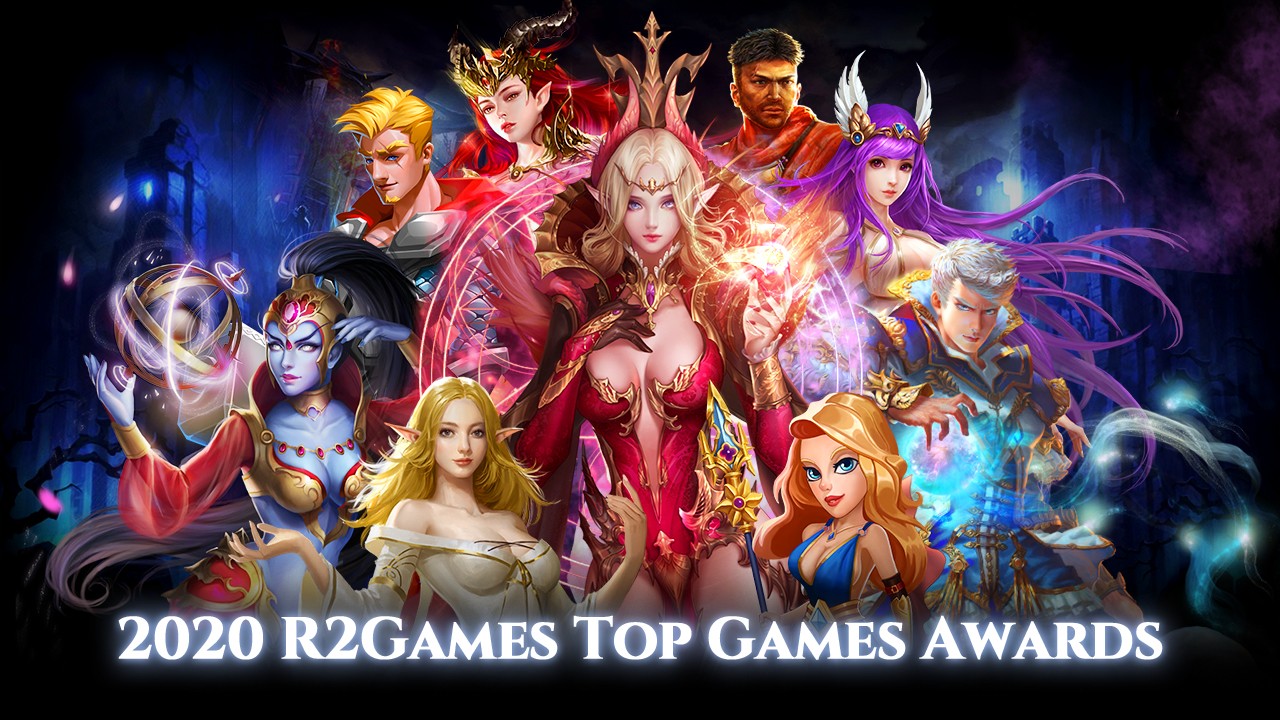 2020 was a pretty special year for R2Games (operated by F5 Games Co.). New games landed, amazing games got updated with new content, additional languages and more, and the service went from strength to strength. With more than 70 million players and 20 plus games, it's hands-down one of the best places to play games from your browser.
Which is why it's time to celebrate the achievements of the biggest and best titles that R2Games has to offer by handing out some player-picked awards. Some are serious, some are a bit silly, but they all show the amazing things that R2Games has to offer to gamers.
And, while we're at it, we'll take a look at what's coming in the next 12 months as R2Games expands with more games, more content and, most importantly, an awful lot more fun.
R2 Games Title of the Year 2020: Game of Thrones: Winter is Coming
This officially licensed browser game is based on the smash hit HBO series. It sees you building up your lands, training your armies and trying to take over the Iron Throne. You can team up with other players and take on PvE and PvP challenges too.
You'll meet famous characters from the TV show, and recruit them as commanders to lead your armies in battle. This is probably the closest you're ever going to get to living in Westeros, so it's no wonder it's the player pick for game of the year. It's also playable in six different languages – English, French, German, Polish, Spanish and Portuguese.
Game of Thrones: Winter is Coming also walks away with the award for Most Updated game of 2020, which shows just how much effort R2Games is putting into it.
Best Strategy Game: The Third Age

The Third Age is the winner of the Best Strategy Game award. It's a massive game that's playable on PC or Mobile. Set in a massive fantasy world it's all about taking control of a kingdom, gaining resources and engaging in tactical warfare with other players.
This one's available in English, French and German, and there's hours and hours of gameplay to sink your teeth into. With a rich fantasy world to explore and alliances to make, you're going to have a ball if you give The Third Age a go.
Best MMORPG: Dragon Awaken

Dragon Awaken is a massive MMORPG with multiple classes to choose from and hours and hours of quests and adventure awaiting for you. Available in English, French and German, it's just shifted from being a Flash game to an in-client experience. And it's well worth the transition.
There's a gorgeous art-style here, and so much to do that you're going to lose a lot of your life to it. It also wins the award for Most Talked About R2Games Title 2020, because its players just can't get enough of Dragon Awaken. Give it a try and you'll find out why.
Best New Game: Lords of the Arena

Lords of the Arena is one of the latest games to land on R2Games. It's an ambitious idle RPG that sees you teaming up with other players or, if the fancy takes you, trying to take them down.
There's a whole host of characters to collect, equip and upgrade, and every choice you make is going to change the make-up of your team. Throw in a neat cartoon art style and you can see why players thought this was the best new game on the R2Games platform this year.
Best HTML5: Eternal Fury

Another massive MMORPG that's going to get even bigger with some massive content updates planned for 2021. Eternal Fury is packed full of action and adventure and it's going to keep you on the edge of your seat.
There's a story about gods, giants and demons, a city to build and defend and much, much more going on here. Eternal Fury is a massive game and a worthy winner of this award.
Best Casual Game: Eco City

If you're looking for a game that's a bit more relaxed, then Eco City, the winner of the Best Casual Game Award is the one for you. It's all about building up a city, taking care of the people within and making sure you're not spreading pollution.
Loneliest Online Game: Firestone Idle RPG

Zombie, orcs and more are on the rampage in this idle RPG. It wins the tongue-in-cheek award for Loneliest Online Game because for the most part, you're going to be letting your team of warriors go off without you. It's available in six different languages though, and it's an awful lot of fun.
Best Zombie Game: Survivor Legacy

This one's packed to the rafters with the undead, so it's no surprise it won the award for Best Zombie Game. It's got a unique art style, all guns and capes and big explosions, and it's set in a distant future where you need to defend humanity against the zombie hordes.
Best Facebook Gameroom Recommendation: Omega Zodiac

Omega Zodiac is a big, brilliant RPG that was recommended in Facebook Gameroom. It's not difficult to spot why, thanks to lovely graphics and deep and engaging gameplay. There's some real depth here, which is why players keep coming back to R2Games to experience everything Omega Zodiac has to offer.
Longest Running Game: League of Angels I and League of Angels II

The League of Angels games have been going for more than five years now. There're masses of content to explore, guilds to join and weapons to forge. Play in English, French of German – whichever language you're going to have a massive amount of fun.
What to look for in 2021
R2Games has some big plans for the coming year, building on the success of the brilliant games in this awards list. For one thing, expect to see more casual and midcore experiences to complement the vast array of RPG and strategy titles that already exist on the service.
2021 is going to see a big community drive as well, as R2Games pushes to make more connections between players. To get involved with that you should definitely join the R2Games discord server.
And last but by no means least, 2021 is going to see even more games moving from Flash to HTML5 or mini-client. You can expect Omega Zodiac, Call of Roma, Dragon Awaken and the League of Angels series to make the switch in the coming months.