Halloween is fast becoming our favorite holiday, if only because of the huge number of in-game offers and events that take place at this time of year.
R2Games is joining the fun bigtime, with several titles in its library embarking on a Halloween giveaway bonanza.
Without further ado, here are all the deets on the freebies on offer and where to find them.
Vampire Empire
Finally, the perfectly Halloweeny Vampire Empire is doubling down on the horror with a special Travelling Merchant Halloween activity.
This roaming vendor will appear at random throughout the game map, letting you exchange fantastic loot when the Black Market is open for business. There are special items available too.
To obtain these Halloween items you need to attack monsters and barbarian camps, or participate in active events. Rewards include a Castle Skin, a City Teleport Card, various resource packs, speed-up items, and more. You can find the Vampire Empire Facebook page here.
So there you have it – there's plenty to keep you busy over on F5 games this Halloween. Head to www.r2games.com to check it all out.

Game of Thrones – Winter Is Coming
Game of Thrones is getting into the Halloween spirit too, with several gifts being handed out up to the 31st of October.
They'll be posted randomly on the Facebook page, so make sure you check it often.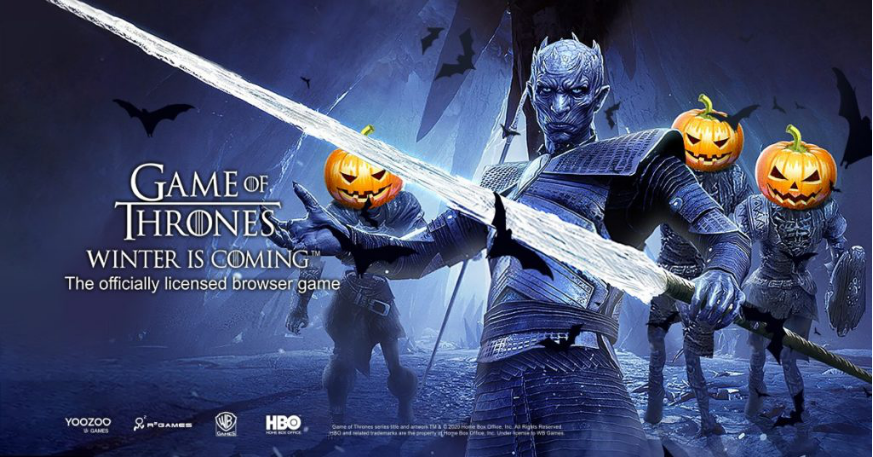 Omega Zodiac
Omega Zodiac, the classic fantasy MMORPG from developer Proficient City, is holding a couple of different events this Halloween. The first is a daily login event, letting you claim rewards every day just for playing the game.
The second is the Pumpkin Boss event. Every half an hour between 8 a.m and 11 p.m throughout the event period you'll be able to defeat the Pumpkin Boss in the Halloween map to claim special rewards. Here's the game's Facebook page too.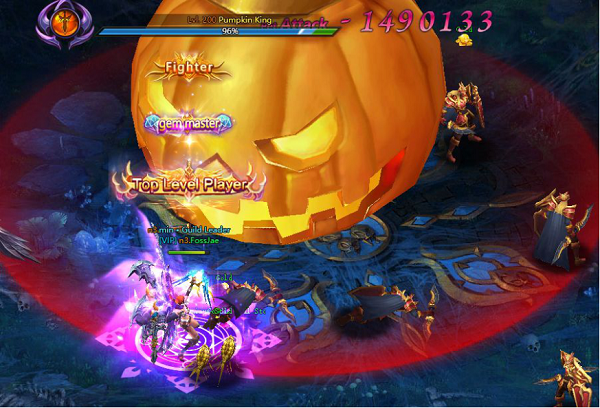 Dragon Awaken
Next up, Dragon Awaken, another fantasy RPG featuring everybody's favorite imaginary fire-breathing dinosaurs, is holding three separate events.
The first is called Sweet Adventure, and it sees you hiring monsters for the first three days. These monsters then produce random candies every day at 10am and 10pm. The more advanced the monster, the better the candy, and you can sell the candies you obtain for diamonds.
After three days, your candy-spewing monsters disappear.
The second Dragon Awaken event is called Halloween Gift, and it simply sees you opening a free gift every day. You can recharge or spend Ambers to increase your opening chances.
And the third adds a new fashion, called Death Shadow, and a new mount called Specter Bat. The game's official Facebook page is here.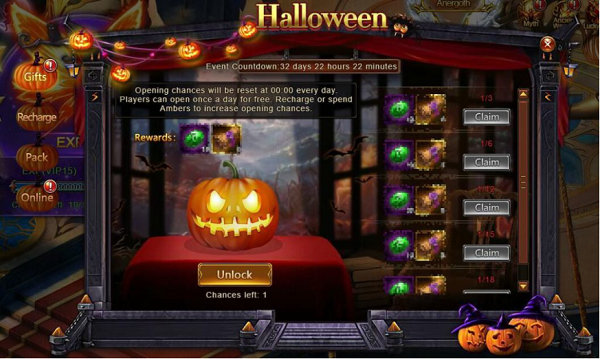 Armor Valor
The next game on the list is Armor Valor, the popular fantasy MMORPG with real-time strategy elements, developed by F5 games.
This time there are four events on the go, and they're absolutely massive. First up there are the Halloween login rewards, which last for 12 days and give you free stuff just for booting the game up.
Next, Armor Valor is getting four exclusive Halloween heroes, called UR Medusa, SSR Venus, SR Arakari, and R Cleopatra. For a limited time you'll have an elevated chance of bagging these heroes, receiving an appointed hero badge for every ten summons.
Then there's the Halloween World Boss Event, which starts on October the 30th and lasts for a full week.
You need to be a Lord with a castle above level 5 to participate in this event. If that's you, you can attack bosses at various levels, with higher levels resulting in more points. You can then exchange these points for rewards.
Meanwhile, certain heroes get extra buffs upon receiving points.
Last up on the Armor Valor slate is a bumper crop of six new chapters in the Expedition Dungeon. You'll need to think carefully about which hero you dispatch into this dungeon, as the victor comes out with a hero badge and hero weapon. You can find the game official Facebook page here.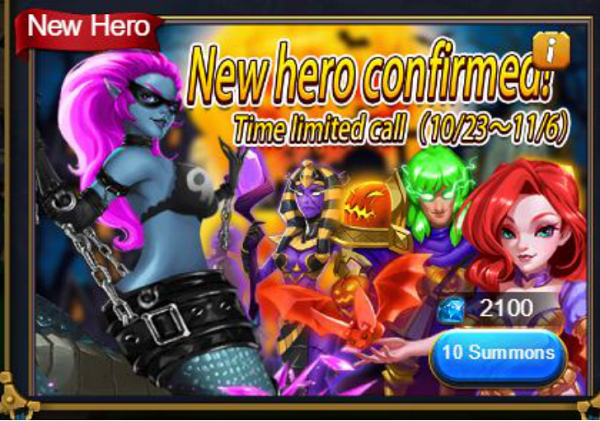 Eternal Fury
Eternal Fury is the next game taking part in the seasonal festivities with a glorious Halloween Carnival. Taking place between October the 28th and November the 1st, this extravaganza consists of several events, including a Halloween Lucky Wheel, a Lucky Golden Egg, and a Fabled Shop.
Visit the Eternal Fury Facebook page to pick up codes and redeem your Halloween gifts. Holy Wings Feathers, Warsoul Stones, Diamonds, Level 5 Lucky Stones, and more are all up for grabs.
The Third Age
The Third Age, the strategy game set in Middle Earth, is celebrating Halloween too, in this case with a Halloween Collection Event and Halloween Pack. Both went live on October the 27th, and will stay up until the 29th.
Throughout the event period, you'll have the chance to get Halloween Ghosts to play the slot machine for gifts and treats.
The official Halloween celebrations begin on October the 30th and last until November the 1st, throughout which period you'll be able to claim special gifts. In addition, you can head to the official Third Age Facebook page to receive gift codes.